Small Agency Services Bulletin - January 2019
January 2019
Your feedback is important
Please send your feedback about the Department of Enterprise Services' (DES) Small Agency Financial Services (SAFS). Your feedback helps us improve and better meet your needs. Finance welcomes your feedback at any time.
Jan. 25
Monthly Department of Revenue (DOR) Use Tax Filing due.
Jan. 31
Sick Leave buyout options are due back to DES payroll for employees who wish to opt in. If employees opt in for sick leave buyout, it will be paid on the February 11 paycheck.
1099 uploads will be submitted to the IRS.
Quarterly and Annual Department of Revenue (DOR) Use Tax Filing due.
Performance measure actuals for the quarter ending December 31, 2018, are due for agencies that report on a quarterly basis.
Feb. 7
To reflect in your agency's December financial statements, all invoices and travel reimbursement requests are due to Accounts Payable.
Feb. 25
Monthly Department of Revenue (DOR) Use Tax Filing due.
Back to the top.​​​
Important reminder about fiscal note process
The 2019 Legislative Session has started. Please remember that agencies have three days to respond to fiscal notes during session, with a priority for fiscal note requests. Agencies that have experienced staff turnover are reminded to make sure appropriate staff have access to the systems necessary to the fiscal note process.
OneWashington and how DES SAFS is supporting you
This month DES Finance and OFM OneWashington teamed up to begin cleaning up agency vendor files. We were able to clean up hundreds of outdated vendor records!
Also, on January 15, DES Finance attended the first data stewards and data custodians workgroup. Work will begin shortly to compile information on all of the systems that interface with AFRS or other systems that could be replaced by a new ERP. This work is just beginning and is planned to continue for the next 12 months.
Below is an updated implementation/phasing approach time line.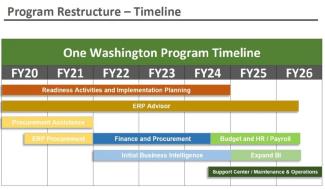 AFRS passwords and new users - DES is supporting you
Do you have access to AFRS? Did you know that if you need to set up a new user or have your password reset you should actually contact DES Finance? We are always ready and happy to help! Please email DESGeneralLedger@des.wa.gov or call (360) 407-2235 to reach our security team.
Department of Revenue – Unclaimed Property
Each year businesses and state agencies report unclaimed money or property to the Department of Revenue (DOR). Individuals or businesses can check to see if DOR is holding money or property that belongs to them. Check it out and Claim Your Cash.
Back to the top.​​​
Accounts Payable team focused on 1099 forms
The Small Agency Accounts Payable team is focused on completing 2018 Internal Revenue Service 1099 tax reporting for small agencies. Enterprise Services ensures that all vendors will receive their 1099 tax information postmarked by Jan. 31, 2019, as required by law.
DES presents successful Travel Workshop
Our Dec. 4 travel Workshop had 29 attendees representing 15 agencies and 3 DES business lines. Special thanks to the presenters, Seth Flory, Brailyn Pratt, Sarah Parker, and Reed Fry from DES Accounts Payable. The workshop covered policy guidance regarding:
New 11 hour rule and how it affects your agency
Travel rules updates – per diem rates and prior approvals
Options for Board Member and Commissioner reimbursement
Audit requirements and how to avoid common mistakes
TEMS tutorial – how to create, submit, prepare, and approve trips
View the presentations with Q&As from the workshop.
Please contact Accounts Payable if you have any questions: APquestions.safs@des.wa.gov or (360) 407-8183
DES Payroll statistics for Dec. 2018
16 New Hires/Rehires
4 Transfer In/Transfer Outs
13 Separations
0 Walk Throughs
2 Overpayment
DES Accounts Payable statistics for Dec. 2018
2,539 payments ($7,292,075) were processed.
2,292 non-travel invoices ($7,222,515) processed.
247 travel and other reimbursements for employees and board members/commissioners ($69,560) processed.
14 percent of the non-travel invoices ($487,380) were paid using delegated authority letters provided by agencies.
80 percent of the travel and other reimbursements were submitted and processed through the Travel and Expense Management System (TEMS).
Back to the top.​​​
The state mileage rate for privately owned vehicles has increased from $0.545 to $0.58 per mile, effective Jan. 1, 2019. Travelers requesting reimbursement through TEMS will not need to make any adjustments because the system auto-populates the rate based on dates of travel. Travelers using paper vouchers will need to verify the correct rate is used on their reimbursements.
If your agency does not use TEMS and would like more information, please contact SAFS AP at (360) 407-8183 or email travel.safs@des.wa.gov.
Back to the top.​​​
If you have suggestions or feedback about the Small Agency Services Bulletin, please send your comments to SmallAgencyBulletin@des.wa.gov.
Back to the top.​​​