DEI Council lunch & learn Feb. 23 "Life After Prison: The Prison-to-School Pipeline"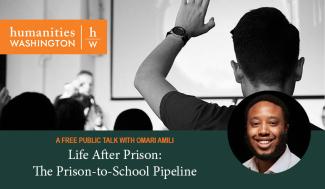 The Washington State Department of Enterprise Services, in partnership with Humanities Washington, is proud to present the next session in the DEI speaker series. "Life After Prison: The Prison-to-School Pipeline" will be presented via Zoom webinar from noon-1 p.m. Wednesday, Feb. 23.
Description:
You may have heard stories about tragic outcomes related to the "school-to-prison pipeline." In this discussion, Omari Amili introduces new possibilities and challenges fear-based narratives through his exploration of a potential new pipeline that runs from prison to college.
While sharing his story and exploring the history of mass incarceration, especially in Washington state, Amili explores how society, as a whole, benefits when people pursue higher education after incarceration.
About the speaker:
Omari Amili (he/him) is an author, speaker and community organizer. Since his release from prison in 2008, he earned a master's degree from the University of Washington Tacoma, where his research focused on the benefits of college education for formerly incarcerated people. In 2018, he was named a Distinguished Alumni by Pierce College and has been featured in the Seattle Times and the News Tribune.
Amili lives in Spanaway.