DES managed the construction of the Capitol Childcare Center, the second childcare center in Olympia to serve state employees and their families. Located on the corner of Maple Park Avenue Southeast and Capitol Way South, the single-story, 9,600 square-foot building is southern gateway to the Capitol Campus. The Legislature funded the $10 million project in 2019.
Capitol Childcare Center features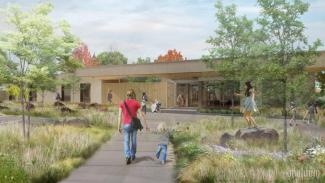 Buildings are the largest overall contributor to greenhouse gas emissions from state agency operations. The childcare center is the first net-zero building on the Capitol Campus, built with an eco-friendly design that focuses on conserving resources, ensuring air and water quality and reducing waste.
Ultimately, this project added 37 new trees to the Capitol Campus. The mix of deciduous and flowering species are in addition to the 200 new trees planted on the Campus in association with a National Association of State Foresters Centennial Challenge.
The center features:
Six classrooms
A nature-based learning playground for infants, toddlers and preschoolers
A light-duty commercial kitchen
14 drop-off only parking stalls
198 solar panels, each producing 440 watts of energy for a total of 87 kilowatts. View photos here.
There are also multiple points of pedestrian access to ease traffic impacts on Maple Park.
View photos of the Capitol Childcare Center site here.
Roof construction used sustainable timber options
The roof of the new Capitol Childcare Center is made of cross-laminated timber (CLT) and glue-laminated timber (GLT). Both CLT and GLT are engineered wood products manufactured in the Northwest using trees that in the past have not been economical to harvest, including small Douglas fir, Western hemlock and other trees that have diameters as small as 4 inches -- including dead trees. The wood used for the childcare center is Douglas fir.
Using CLT and GLT in construction offers both design flexibility and lower environmental impacts. While CLT is used as for static panels, GLT offers more flexibility for different shapes. The center's roof panelling is made of CLT while the beams and columns are GLT. In 2017, DES oversaw a pilot project to build 20 elementary school classrooms in five Washington school districts.
See a time-lapse video of the childcare center roof installation:
For more information