Irv Newhouse Replacement Project
As part of the Legislative Campus Modernization (LCM) project DES is replacing the existing Irv Newhouse Building that houses members of the Senate and their staff.
The Newhouse Building was constructed as a temporary structure in 1934 and is beyond its useful life. It has significant health and safety hazards, obsolete building systems, and the interior is overcrowded during Legislative Session.
The Newhouse Replacement Project is underway and scheduled to be completed in late 2024.
Major impacts
Before visiting campus, please note:
The construction site is fenced in, limiting some pedestrian routes and parking.
The Visitor Information Center Parking lot is closed for safety. For alternative parking, use the parking map.
The Pedestrian Bridge that connects East and West Capitol Campus is closed and will remain closed until 2025 for public safety. Use designated alternate routes.
Expect increased noise, dust, and construction traffic during work hours from 7:30 a.m. to 8 p.m.
Stay up-to-date on the latest impacts by reading the LCM Weekly Update and viewing progress photos on our LCM Flickr Collection.
Project schedule
The project is scheduled to be complete in late 2024.
Fall 2021: Select design team and initial construction team
December 2021-September 2022: Building design
August-December 2022: Environmental review
October 2022-March 2023: Construction documents
March-May 2023: Demolition and prep work
May 2023-November 2024: Construction
All construction schedules are subject to change.
Public involvement
The design underwent months of public input, including an environmental review and feedback from a Peer Review Landscape Panel.

If you want to get involved in LCM, attend our next LCM Stakeholder Meeting or subscribe to the LCM Weekly Update for upcoming opportunities.
Newhouse replacement building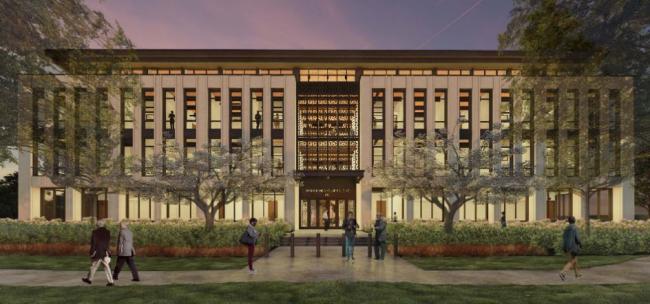 Watch the Newhouse Replacement Project Overview video and view the design.
The Newhouse replacement building will complement the historic campus design while using modern techniques to meet both the current and future needs of the Senate, and help the campus meet its clean energy goals.
The Newhouse replacement building will feature design elements and artwork that depict the timeless aesthetic and values of Washington State, and an expanded footprint to reduce crowding.
The building is also on track to receive at least a Silver Leadership in Energy and Environmental Design (LEED) rating. 
Key sustainability features include:
Reduced embodied carbon footprint through use of salvaged Douglas Fir wood and Wilkeson sandstone.
Energy efficient windows, well-insulated walls, natural ventilation, and added daylight through a skylight.
Finishes free of harmful "red list" chemicals.
Landscape design
The landscape design will enhance the plan of the original landscape architects, the Olmsted brothers, and will create a beautiful transition from the west Capitol Campus landscape to the historic South Capitol Neighborhood.
Watch the Maintaining the Olmsted Legacy video to learn more about Olmsted design on the Capitol Campus.
Historic mitigation
To make room for the new building, DES had to demolish the existing Irv Newhouse Building and nearby Capitol Press Corps Houses.
DES worked with the Washington State Department of Archaeological and Historic Preservation (DAHP) to come up with a plan to offset those losses:
Salvage, reuse, and recycle whenever possible.
Document buildings through professional photography.
Explain site history and context.
Watch the Historic Mitigation video to learn more about DES' plan, or Historic Washington: Capitol Press Houses on TVW to learn more about the historic Press Houses.
Related links