LCM Modular Building
The Irving R. Newhouse Building will be replaced as part of Legislative Campus Modernization. A modular building will be placed in the southeast corner of the Mansion Parking Lot to house building occupants during construction. This is an important first step of the Legislative Campus Modernization Project.
Site preparation work begins May 24, 2022, and includes the installation of construction fencing around the southeast corner of the lot. Modular building construction is expected to begin in September.
Impacts:
The southeast corner of the Mansion Parking Lot will be unavailable beginning May 24 2022, when site preparation work for a modular building that will be located there begins. DES anticipates that there will be enough spaces in the lot to accommodate reserved parkers through the end of the year.
Starting in June, the Parking Office will work with agencies to mitigate parking impacts in the 2023 legislative session.
During construction, there may be times when roads in the vicinity will be closed. In these cases, signs indicating alternate routes will be posted well in advance.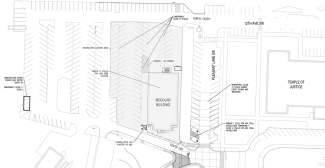 More information
Demolition of the current Newhouse building is expected to occur in mid-2023 with construction is expected to begin in the fall of 2023. Once Newhouse is complete, the modular building will house occupants of the Pritchard and O'Brien buildings during the renovation of those structures. The modular building is expected to remain on the Capitol Campus for six to eight years. When the Modular building has fulfilled its function as a temporary office building, it will be disassembled, and the parking lot will be restored.
Questions?