Electronic Return Receipt
Consolidated Mail Services (CMS) processes Certified Mail with Electronic Return Receipt (ERR) for customers. In fiscal year 2022, CMS customers saved more than $95,000 by using ERR. CMS encourages the use of ERR whenever possible in order to reduce mailing costs.
What is Return Receipt?
Return Receipt is a service that provides the sender with proof of delivery by recording the recipient's signature and actual delivery address.
What is Electronic Return Receipt (ERR)?
ERR is an electronic alternative to the existing green Return Receipt card (Postal Service form 3811). ERR is an official United States Postal Service® document designed to be equivalent to the hardcopy Return Receipt that has been in use for many years. It records signatures and delivery addresses electronically and allows the customer to track and receive signature and delivery information online.
How much does ERR save?
| Action | Savings |
| --- | --- |
| Cost of Return Receipt with green card (PS form 3811), per piece | $3.25 |
| Cost of Electronic Return Receipt (ERR), per piece | $2.00 |
| Per piece savings by using ERR | $1.25 |
Does ERR meet my mailing requirements?
In April of 2009, the Legislature passed House Bill 1426 allowing the use of ERR when a Return Receipt is authorized or required. View House Bill 1426 in its entirety.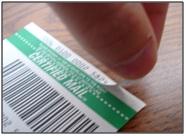 How do I use ERR through CMS?
Request the free labels (see image, right) online by going to the CMS supply order page.
Keep the tracking number for your records. CMS is available to consult with your agency at no cost about options for record keeping.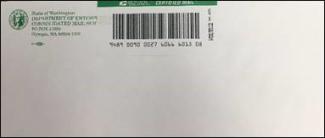 Attach the label. Leave 2 ¾ inches in upper right hand corner for metering when applying the label.
Check the USPS Electronic Return Receipt (ERR) box on the pink slip.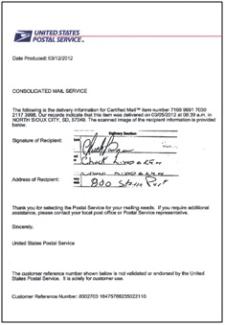 How do I obtain the ERR?
To get a copy of the delivery record:
Go to the USPS Track and Confirm website
Enter the Certified Mail tracking number.
Input your email when presented with the ERR option.
The signature will arrive in a pdf email attachment.
Please note: Once delivered, signatures are available immediately. However, the delivery process may take a few weeks depending on the availability of a signer.
Questions? Please contact CMS Customer Service at 360-664-9507.