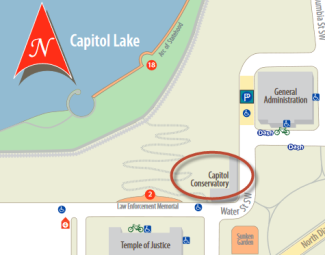 1115 Water Street SW
Olympia, WA
Conservatory Demolition project
The Department of Enterprise Services oversaw demolition of the Capitol Conservatory on the West Capitol Campus. The building was permanently closed in 2008 due to safety issues resulting from unstable soil that led to building damage. Settling caused cracks in the building foundation and damage to steel components surrounding the windows, which were cracking and breaking.

Work to remove the glass greenhouse and relocate utilities occurred between August 2020 and February 2021.
Next steps
Future funding will be needed to address the structure's foundation and steel components and to repair the hillside the conservatory sits on to prevent further sliding.
The Department of Archaeology and Historic Preservation has reviewed this project, and the building has been documented with a historic structure report. No historical salvage of building elements is required.
Building history
Originally called the Washington State Capitol Greenhouse, the Capitol Conservatory was constructed in two phases, with the south and west parts completed in 1939, and the northernmost two-story section completed in 1963.

The Capitol Conservatory supplied flowers and plants for the grounds of the Capitol Campus and to the public. It was a home to over 500 rare and exotic plants originating from South America, the West Indies, and Madagascar. During the summer, the Conservatory welcomed up to 500 visitors per weekend to view its unique and diverse plants.

In 2001, the Capitol Conservatory was deemed eligible for the National Register of Historic Places as a contributing building to a potentially expanded Capitol Historic District.
Significant Projects
1963 – The northernmost section added, including excavated basement.
1968 – Alterations and repairs to the west wing, including new concrete aisle slabs and a new steel roof framing system.
1989 – Enclosed awning constructed on east side.
2008 – Greenhouse permanently closed to the public