Insurance Building Exterior Cleaning and Restoration Project
During the fall 2020 routine cleaning and repair of the building exterior, crews found additional masonry damage and failing window casings caused by the building's age and standard wear. Cleaning and repair go hand in hand: Cleaning benefits preservation work by revealing issues like where stone is damaged. Construction to address the masonry damage and windows is scheduled to take place Mid-March through the end of May 2021.
Some landscape on the west side of the building was removed to support the work and will be replaced in the spring of 2021.
Maintaining building exteriors is important to prevent future costs as well as building function. A building's exterior shell – the roof, windows, insulation, and exterior walls and doors – is designed to keep the structure water-tight and maintain a comfortable temperature for people working or visiting the facility.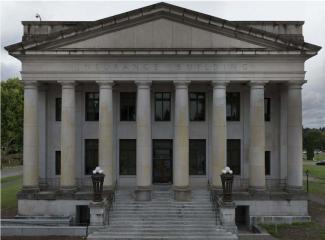 Insurance Building Sept. 2020
Insurance Building Nov. 2020
Building History
Built in 1921, the Insurance Building features a narrow, rectangular footprint of approximately 98,000 cubic feet. It is four-stories with a below-grade partial basement. While technically a three-story building from the exterior, the fourth floor is set just beneath the gable roof, bounded by the balustrade and illuminated by skylights and round roof dormers.
Located at the northeast corner of 14th Avenue Southwest and Cherry Lane Southwest, the Insurance Building defines the eastern edge of Wilder and White's Capitol Group. Situated immediately east of the Legislative Building and as the second building designed for the Capitol by Wilder and White, the Insurance Building's construction solidified the arrangement and ultimate group placement.
The exterior form displays the quiet rooflines, pediment porticoes and linteled window and door openings, characteristic of Neo-Classical Revival style. The buff-colored Wilkeson sandstone cladding and Index granite base integrate the building within the core Capitol Group.
The Insurance Building is included in the National Register listed under the Washington State Capitol Historic District (1979) as a contributing resource.
Past Projects
1949 – Sections of architrave and frieze rebuilt as part of seismic upgrade.
1967 – Two coats of Vise Wall Marble Crete Glaze acrylic coating, clear, non-breathable, full cross-linked coating applied.
1971-79 – Multiple remodel projects throughout the building. New partitions in perimeter spaces. All existing hollow clay tile partitions, marble sills, and perimeter wall and ceiling finishes removed in perimeter spaces. Shear walls and two new stairwells added. New fixtures, finishes, windowsills and doors provided. Bronze handrails and ADA ramp added. Drinking fountains, light fixtures, and skylights replaced.
2000 – Fire suppression system upgraded.
2002 – Sandstone reattachment by pinning on the north facade. Card readers added.
2019 - Roof replacement project
2020 – Cleaning and minor repairs