Location: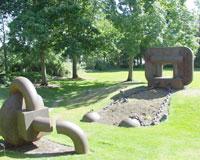 East lower lawn of the Transportation Building
Description:
Artist- Thomas Jay (born 1943)
Endorsing Entities- WA State Arts Commission, WA State Capitol Committee
Installation Date- 1973
Materials- steel and bronze
Inscriptions- none
History & significance:
The existence of this impressive steel and bronze piece was made possible through a one-percent arts allotment of the total cost of construction of the East Capitol Campus (built between 1961 and 1976). It was with this funding that, among other things, two 'interest node' pieces were commissioned for a park just below and east of the Transportation Building. One of the pieces chosen by a selection committee (which included a sculptor, museum curator, and landscape architect) was artist Thomas Jay's Boiler Works.
The capitol campus commission was the largest that Jay (a recent graduate of the University of Washington's Masters of Fine Arts program at the time) had ever done. He designed the nine-piece work (the largest being eight-and-one-half feet by twelve feet) to 'be accessible to people so that they can become involved both physically and socially.' Jay found inspiration for Boiler Works in ancient landscapes, including Greek ruins and Stonehenge. The sculpture features two large steel forms separated by a space—this open area represents the sacredness of the earth. Chains connected to large steel bulbs buried in the ground symbolize the 'chaining' together our sense of the sacred with the bounty of the world, as well as our obligation to nature. Also in this open space are bronze 'teeth' or sprouts that further emphasize our connection to the earth, making reference to old myths that regard the world as a dragon.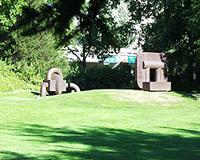 Jay, who currently resides in Chimacum, WA, has since done a number of other monumental commissions in the Northwest, including pieces for the City of Bellevue and the Should Business Park in Port Hadlock, WA. Additionally, Jay is an activist promoting Olympic Salmon habitat preservation and has published a number of essays and his own book of poems.
Maintenance record:
Throughout the years, there have been several instances of graffiti on this piece. State workers cleaned the metal forms after all such cases.