Location: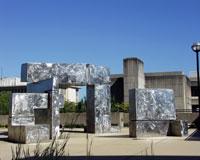 North side of the Transportation Building
Description:
Artist- Lee Kelly (born 1932)
Endorsing Entities- Washington State Arts Commission, State Highway Commission, State Capitol Committee
Installation Dates- May 14-17, 1973
Materials- stainless steel
Inscriptions- none
History & significance:
The history of this stainless steel, Stonehenge-like piece can be traced back ten years before its installation date. It was then, in 1963, that the Washington State Arts Commission asked the State Highway Commission to authorize one percent of the total construction costs of the new State Highway Administration Building (later renamed the Transportation Building) for works of art to be placed inside the building and around the exterior. The Highway Commission granted the request, asking the Arts Commission to coordinate the selections, with final approval for outdoor pieces coming from the State Capitol Committee (comprised at the time of the Governor, Lieutenant Governor, and the State Lands Commissioner).
With the funds then at their disposal, the Arts Commission purchased six models of outdoor sculptures from 14 artists interviewed, the criteria being that the artworks be 'compatible with the building and plazas in scale and materials, even though clearly having a life of their own.' Additionally, sculptures were to be maintenance free. From these six models, two were selected by the Arts Commission. One of these was Oregon artist Lee Kelly's untitled stainless steel sculpture. Although there was some initial resistance to the piece's non-traditional nature and cost ($23,000), the State Capitol Committee eventually approved the selection.
Kelly was born in McCall, Idaho, and has remained in the Pacific Northwest for almost his entire life. He has exhibited regularly in Oregon and Washington and is widely represented in many of the Northwest's public places. Additionally, Kelly has done sculptures for spots in California, New York, and Washington, D.C. In the five-year process it took to design and create the 28-foot wide and 9-foot tall steel sculpture, Kelly aimed to 'deal with the ancient attitudes of man and his relationship to what he makes with his mind and hand.'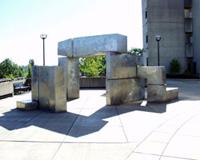 The artist also explained the shape of his final product by saying, 'the forms are simple in that everyone can 'understand' them. The mystery is in their interrelationships, the spaces they create, as well as the relationship to the building and plaza.'
Maintenance record:
1998—As part of the East Campus Plaza Repair Project, the piece was temporarily removed.
1999—The piece was cleaned and relocated from the west side of the Transportation Building to the north end. The reason for this move was the more visible, interactive space that the north plaza of the building afforded the piece.