Park hours
Park public restroom hours: 7 a.m. to dusk. Security is provided by the Washington State Patrol.
Parking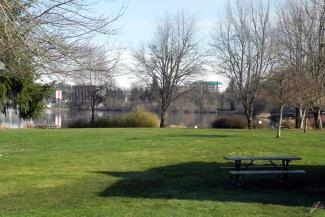 Available on site at 1122 Deschutes Parkway SW, Olympia.
Park history
Marathon Park is a 2.25-acre waterfront park that earned its name as the start and finish site for the 1984 U.S. trials for the first Women's Olympic Marathon. Nestled into the southwestern corner of Capitol Lake's north basin, the park is within easy walking distance of the main Capitol Campus and downtown Olympia.
Because Marathon Park is located at the junction of two lakeside trails, it is a popular spot for walkers, runners and birdwatchers. The park also serves as open space for recreation, and is a popular spot for events such as parades, car shows, dances, family reunions, weddings, and other outdoor events.
Marathon Park was constructed in 1970 by placing 58,000 cubic yards of fill material next to an existing railroad berm in the north basin of Capitol Lake. The park earned its name when the City of Olympia competed for, and won, the right to host the U.S. time trials for the first Women's Olympic Marathon, in 1984. The marathon route for the trials began and ended at the park.
Visiting runners were hosted by Olympia families, and the city basked briefly in the national spotlight as it supported history in the making.
The trials were run in May 1984 and won by Joan Benoit Samuelson. She went on to win the first Women's Olympic Marathon at the 1984 Summer Olympics in Los Angeles, California.
The Nisqually Earthquake of February 2001 caused extensive damage to Marathon Park. Reconstruction and repair of nearly all the park's features, including the new restroom facility, were completed in December 2003.