Park hours
Park public restroom hours: 7 a.m. to dusk. Security is provided by the Washington State Patrol.
Parking
Parking is available off of Union Avenue SE. The park is located at 225 Union Avenue SE, Olympia.
Park history
In the spring of 1988, the state established
'a Centennial Park and green belt area ... the focus of which is a one hundred plus year old coastal redwood tree. The tallest tree in Olympia.'
Centennial Park was conceived and established to commemorate the state's 100 contemporaneous years. In addition, it was the intent of the park's founders to maintain the park as a natural area, with consideration of the tree as paramount in decisions concerning the operation and maintenance of the park. Concurrently with the establishment of the park, the State Capitol Committee issued a proclamation naming the coastal redwood The Daniel J. Evans Tree 'in honor of our environmental governor.'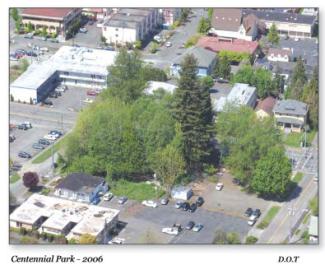 Centennial Park is on the south side of Union Avenue between Washington and Franklin Streets. The site still holds the old foundation of a residence. The southeast corner is currently being used for parking. The balance of the park supports numerous trees and shrubs. Puget SoundCorps of Washington State recently removed more invasive English ivy and replanted the north slope of the park with native plants for soil stabilization.
The Daniel J. Evans Tree is believed to be planted in 1909. At the time of the State's Centennial in 1989 the tree was 148 feet tall and 5.6 feet in diameter at 4.5 feet above the ground. This species (Sequoia sempervirens) commonly reaches 200 to 275 feet in height and 8 to 12 feet in diameter. The tree is located on a small knoll in the approximate center of the park. Specialists have advised that an area with a 50-foot radius surrounding the tree should be left undisturbed to prevent mortality.
Looking ahead, plans for the park should remain in line with the original intent of the founders: a natural setting that provides respite and recreation with minimal development. Removal of the old foundation walls that are constraining root development is needed. In addition, continued control of the English ivy and the thinning of overgrown shrubs and trees will contribute to a healthier and more usable park.
Centennial Park is a diamond in the rough. As the area surrounding the park continues to experience high-density development, the importance and civic value of this park will become more apparent.