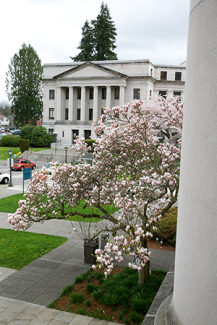 Species
Magnolia x soulangiana
Family
Magnoliaceae
Campus Location
Southeast corner of the Legislative Building
Native Range
Garden hybrid
Description
Deciduous, growing 15-20 feet tall and 20-30 feet wide.
Large, tulip-like pink/white blossoms in early spring with smooth, light gray bark.
Landscape uses include specimen, patio tree.
History and significance:
The saucer magnolia is a garden hybrid that was developed strictly for ornamental purposes. These small trees originated from Chevalier Étienne Soulange-Bodin, an officer in Napoleon's army. He hybridized two Chinese magnolia species to create the saucer magnolia, which first flowered in 1826.

A saucer magnolia that once stood near the southeast entrance to the Legislative Building was christened the "sine die tree" in the 1960s by Jack Pyle — a longtime capitol correspondent for the Tacoma News Tribune — because its annual early-March blooming coincided with the end of the Legislature's 60-day session. When a new sidewalk was built in 1975 the original sine die tree was cut down by mistake. Legislators preserved the tradition by having this replacement saucer magnolia planted as the new sine die tree.
Other Resources