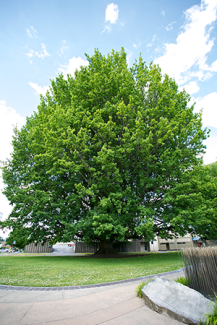 Species
Quercus robur
Family
Fagaceae
Campus Location
Northeast corner of west campus
Native Range
Most of Europe
Description
The English oak is a towering tree that is the largest of its kind in the United States.
The tree on Campus stands 96 feet tall, with a trunk four feet thick.
Deciduous, growing to more than 100 feet tall and 80 feet wide.
The English oak is susceptible to powdery mildew.
Landscape uses include shade, parks, large open areas and naturescaping.
History and significance:
The species is famous in England where its uses range from lumber to shipbuilding.
Other Resources