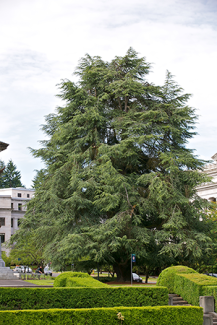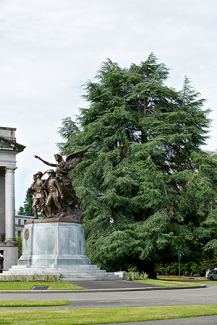 Species
Cedrus atlantica
Family
Pinaceae
Campus Location
West of the bronze Winged Victory monument
Native Range
Atlas and Riff Mountains of Morocco and Algeria
Description
Evergreen, with a typical height of 40-60 feet.
These enormous cedars support a broad crown of limbs over 50 feet wide.
They can be troubled by tip blight and root rot.
Landscape uses include specimen, parks, and large, open areas.
History and significance:
These venerable trees are true cedars. They are native to the Atlas mountains of northern Africa, and are close cousins to the cedar of Lebanon. Atlas cedars bear shorter, blunter needles, as well as smaller cones.
Other Resources