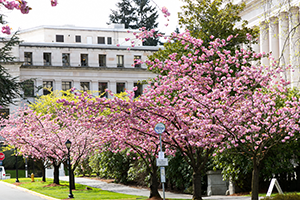 Species
Prunus serrulata 'Kwanzan'
Family
Rosaceae
Campus Location
Growing in two rows of trees lining Cherry Lane, the street east of the Temple of Justice and the Legislative Building
Native Range
Cultivated variety with species from Korea, Japan and China
Description
Deciduous, growing 15-25 feet tall and 15-25 feet wide.
Bears showy masses of cotton-candy pink flowers in April and then produces big cherry leaves but no fruit. These Japanese flowering cherries are bred exclusively for ornamentation.
Susceptible to brown rot and the cherry tortrix beetle.
Landscape uses include specimen, street tree, parks, deck/patio, planter and bonsai.
History and significance:
Kwanzan are the best-known cherry trees in America. The original flowering cherries on the Capitol Campus were planted in 1932 but many died or required replacement because of disease or environmental conditions. In 1912, 350 Kwanzan cherry trees were planted along with 11 other types of cherry trees at the U.S. Capitol as a symbol of friendship between the United States and Japan.
Other Resources