Sunken Garden hours
The Sunken Garden is located on the west Capitol Campus grounds, which are accessible throughout the day, seven days a week. 
Parking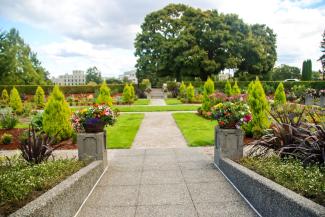 Visitor parking is available along the north and south diagonals next to the Tivoli Fountain. The park is located at 415 12th Ave SW, Olympia, WA 98501.
Sunken Garden history
The Sunken Garden has stood on the Capitol Campus for over 90 years. It was originally designed by the Olmsted Brothers company, a landscape architectural firm, as a part of the master plan for the west Capitol Campus. For many decades, the garden contained roses.
In 2019, DES received funding to renovate the garden to add ADA access, sustainable plants, and a new layout that reflects the original intention of the design. DES worked on the renovation until August 2021, when the garden reopened to the public.
Entering the garden, visitors are greeted by an array of colors from the diverse array of perennials, including bright dahlias planted by the Evergreen State Dahlia Association. In contrast to the roses that once filled the garden, the new design incorporates more sustainable perennials, which are resistant to deer grazing, require less frequent planting and extend seasonal interest. The perennials also draw a greater diversity of pollinators to the garden.
Enjoy this brief video introduction to the Sunken Garden.
Latest updates
August 2021: Sunken Garden reopens to the public after a two-year renovation