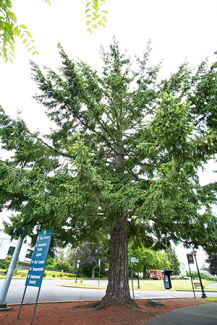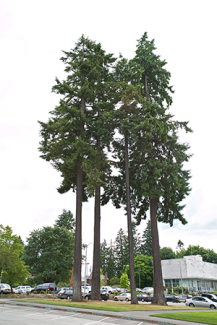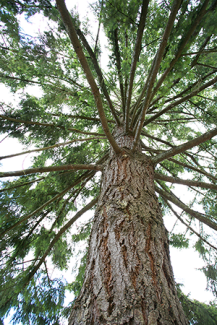 Species
Pseudotsuga menziesii
Family
Pinaceae
Campus Location
Between the Cherberg and Newhouse buildings on the Capitol Campus
Native Range
Northwest United States, southwest Canada and Rocky Mountains
Description
Also known as the Evergreen.
Can grow over 300 feet tall.
Susceptible to the woolly conifer aphid, wool borers, beetles, weevils and laminar root rot.
Landscape uses include specimen, mass screening, parks, large open spaces, naturescapes, and Christmas trees.
History and significance:
The Douglas fir's expansive greenery led to Washington's nickname as the Evergreen State. Douglas firs line millions of square miles of Northwest hillsides and valleys. The tree is named for Scottish plant explorer David Douglas, who sent seeds of the species to England in 1827. The tallest of these trees in Olympic National Park stands at 326 feet. The trunks can reach almost 15 feet in diameter. It is one of the world's most important timber trees.
Other Resources