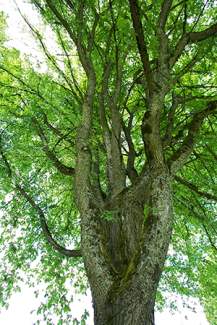 Species
Ulmus americana
Family
Ulmaceae
Campus Location
Northeast corner of West Campus
Native Range
Central and eastern areas of United States and Canada
Description
Deciduous, with a typical height between 75 to 100 feet.
Susceptible to Dutch elm disease, aphids and the elm leaf beetle.
New hybrids are being developed and introduced that are more resistant to Dutch elm disease.
History and significance:
This tree and a younger elm to the west were grown from cuttings from a Massachusetts white elm. Legend has it that Gen. George Washington was standing under a white elm tree in Cambridge, Massachusetts, when he took command of the Continental Army on July 3, 1775. After he became president, that elm tree became a celebrated symbol of patriotism. The Washington Elm died in 1923, at about 210 years old. This elm tree came from a rooted cutting of that famous elm, obtained in 1896 by a University of Washington alumnus doing graduate study in Cambridge. UW botany professor Edmund Meany planted the cutting from the Massachusetts tree, and took cuttings from it as it grew. This tree was one such cutting, planted on the Capitol Campus on Feb. 18, 1932, on the 200th anniversary of George Washington's birth. The smaller elm just west was planted from a 1979 cutting.
Other Resources