Evergreen Magnolia/Southern Magnolia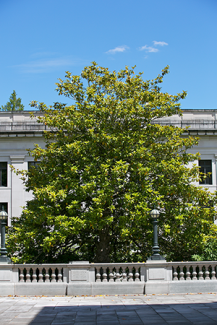 Species
Magnolia grandiflora
Family
Magnoliaceae
Campus Location
Near the east wall of the Temple of Justice, and best observed from the eastern esplanades of the Legislative Building
Native Range
Southeastern U.S.
Description
Evergreen, growing 60-80 feet tall and 40 feet wide.
Bold, glossy leaves with prominent veins and texture, often with a warm red-brown fuzz on their undersides. The tree also has giant white blossoms that appear from May through October.
No known serious susceptibilities.
Landscape uses include specimen and planting in parks.
History and significance:
Its wood is used to make furniture, pallets and veneer. The seeds are eaten by squirrels, rabbits and birds. Its leathery, bold foliage is prized by florists.
Other Resources