Location:
East Campus, near the Highway-Licenses Building and Office Building 2.
Description:
Artist- Phillip Levine (born 1931)
Endorsing Entities- Washington State Arts Commission, State Capitol Committee
Installation Date- February 7, 1976
Materials- bronze
Inscriptions- 'Woman Dancing, 1976, Phillip Levine'
History & significance:
This eight-foot-tall, 450-pound bronze statue of a woman posed in mid-twirl was done by Seattle artist Phillip Levine at a cost of $17,000. The piece, as well as most other artwork nearby, was purchased with a one-percent allocation from the total cost of construction for East Capitol Campus (constructed between 1961 and 1976). Woman Dancing was actually one of the last sculptures added through the Art on the East Capitol Campus Project, joining such pieces as James Washington Jr.'s Mysteries of Life and James Lee Hansen's The Shaman, both installed a number of years earlier.
Levine, who was born in Chicago but has spent most of his adult life as a Northwest artist, holds a fine arts degree from the University of Washington and is known the world over for his sculptures. Other examples of his work can be seen near Schmitz Hall on the University of Washington campus, as well as outside Burien's Southwestern District Courthouse. Levine's works have also been displayed in the homes of former King Hassan of Morocco, former Japanese Prime Minister Eisaku Sato, and many other commercial and private locations.
Woman Dancing took Levine nearly a year to complete and was cast at Fort Worden, WA. In creating the piece, Levine expressed his desire for the statue to 'counteract the tall, vertical force of the (surrounding) buildings without getting lost in the open spaces between them.' Also, the artist hoped his dancer would be in keeping with the large scale of the East Campus grounds around her, but still remain small enough so that viewers could relate on a humanistic level.
Maintenance record: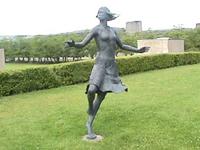 August, 1990—The statue was found lying on the ground one night with its narrow base broken off. Vandalism was at first suspected in the incident, but the artist felt the cause was metal fatigue due to so many people touching and interacting with the piece. The statue was placed in Capitol Campus storage following its tumble.
January, 1991—Artist Phillip Levine added a stainless steel reinforcing rod through the base of the sculpture to make it more flexible. The piece was then re-erected at a spot directly east of its original location, the former site having been deemed the only one suitable for the soon-to-be erected Korean War Memorial (dedicated in 1993).
2004-2005—Woman Dancing was removed and placed in storage during repair work on the Capital Garage. Working with the artist, General Administration identified a new site on the East Capitol Campus: on a grass-covered area next to a Sidewalk near the Office Building 2 and the Highway-Licenses building, within sight of Capitol Way.
2010 – The sculpture is cleaned, waxed, and checked for damage every other year. In October 2010, a crack in Woman Dancing's left foot was welded and braised, in addition to the regular regimen.