Purple-leaf European Beech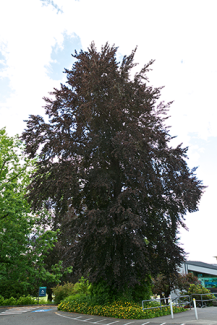 Species
Fagus sylvatica f. purpurea
Family
Fagaceae
Campus Location
East of the Olympia-Lacey-Tumwater Visitor & Convention Bureau Center on west campus
Native Range
Europe
Description
Deciduous, growing 70-80 feet tall and 50-70 feet wide.
Glossy, purple foliage with smooth, light gray bark.
Landscape uses include specimen, shade tree, park tree.
History and significance:
The wood of the tree is used for making paper and furniture. The nuts are a good source of food for wildlife. The nuts also were gathered by people and sold for income in the past.

The fruit of the tree is also the namesake for the Beech-Nut food company, founded in New York in 1891. The company's early products were ham, bacon, peanut butter, jam, pork and beans, ketchup, chili sauce, mustard, spaghetti, macaroni, marmalade, caramel, fruit drops, mints, chewing gum, coffee and baby food.
Other Resources