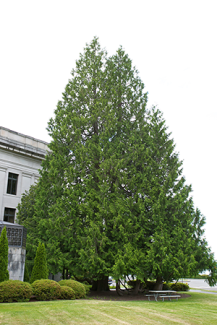 Species
Thuja plicata
Family
Cupressaceae
Campus Location
Northeast corner of the Insurance Building
Native Range
Coastline to the Cascade mountains and in the northern range of Rocky Mountains
Description
Evergreen, growing to over 60 feet tall and 20-30 feet wide.
This native cedar tree is not technically a cedar tree at all. Botanically, it's the world's largest type of arborvitae.
No known serious susceptibilities known.
Landscape uses include specimen, parks and large open areas.
History and significance:
This towering specimen stood on the Capitol Campus before the buildings were erected in the 1920s. The fragrant, lightweight wood of western red cedars is famous for rot resistance. With bark that could be woven into mats and baskets — and trunks that made excellent canoes of 70 feet in length when hollowed out — these trees were imperative to the the indigenous peoples of the Pacific Northwest.
Other Resources