Location: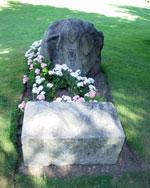 East lower lawn of the Transportation Building
Description:
Artist- James Washington, Jr. (born 1911)
Endorsing Entities- WA State Arts Commission, WA State Capitol Committee
Installation Date- 1973
Materials- granite
Inscriptions- none
History & significance:
This piece's presence in Olympia was made possible through a one-percent arts allotment of the total cost of construction of the East Capitol Campus (built between 1961 and 1976). It was with this funding that, among other things, two 'interest node' pieces were commissioned for a park just below and east of the Transportation Building. One of the pieces chosen by a selection committee (which included a sculptor, museum curator, and landscape architect) was James Washington Jr.'s three-stone artwork entitled Mysteries of Life.
Washington, an African American born in 1911 in Vicksburg, Mississippi, clearly had artistic talents from an early age. Unfortunately, he was raised in a region that did little to encourage the preparations of black students for most professions, art included. Because of this, Washington was determined to learn about art and improve on his own.
Washington got his first big artistic break in 1944. It was then that he moved to the Seattle area with his wife to take an electrician position at the Bremerton Naval Yard. Soon, several of Washington's paintings were shown at a gallery in the old Frederick & Nelson building and were well received by the Seattle artistic community.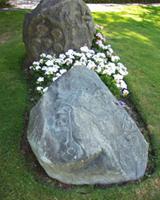 James Washington Jr.'s work with stone did not begin until the 1950's. It was then that he first started shifting from canvas to this new, three-dimensional medium. His first statue, carved from Italian limestone, was entitled Young Queen of Ethiopia. He later presented this piece as a gift to the National Museum of American Art in Washington, D.C. Washington's carvings over the past five decades have most often included classical and African American themes. On the Capitol campus, Mysteries of Life follows in this tradition, with a 'creation' motif depicting numerous religious and nature symbols including a fish (the universal symbol for the Christian Church), a rabbit (representing the lower animal kingdom), and a fetus (representing the higher animal kingdom).
In 1990, the City of Seattle's Historic Landmarks and Preservation Board designated James Washington Jr.'s longtime home and studio a 'culturally significant place.' Hundreds of Washington's works can now be found all over the Northwest. Additionally, museums and galleries as far as Yugoslavia and Japan have displayed his sculptures.